Jenny Obituary
Reverend Father, Reverend Mother and Sisters.
Thank you Father Kane for celebrating this Requiem Mass for my mum. Thanks are also due of course to the Little Sisters and Staff for their kindness and friendship to Jenny. When I go to Rome for Blessed Jeanne Jugan's canonisation in October I shall remember you all during that long awaited celebration.
Jenny was born the fourth daughter and seventh child of Patrick and Mary Gallacher in Milton of Campsie. I believe that when he went to register her birth in Lennoxtown he chose "Jane" and the registrar told him he already had one of them so he invented the "Janetta" name for my mum, a unique name for a unique lady, and a name she rarely used. Jenny grew up in Murray Gardens and attended St Machan's School in Lennoxtown and St Ninian's in Kirkintilloch. Another St Ninian's School was to feature strongly in her later life.
Leaving school, Jenny went off to begin her long career in caring for others, starting off with nursing in Canniesburn where she met my dad, Angus. From there to become a nanny in Glasgow and then to be matron in a succession of List-D Schools, the latter being St Ninian's Gartmore near Aberfoyle, the schools being under the aegis of the de La Salle Brothers, with whom she maintained lifelong friendships. On the way through these jobs, Jenny made many friends whom she considered family, especially the MacDougal's of Horve, Isle of Barra, a friendship that continues today through their grandchildren, great-grandchildren and soon to be great-great-grandchildren. Jenny was the first tourist to Barra after the war, an association she continued throughout her life and I am pleased to say many a wonderful holiday we had there.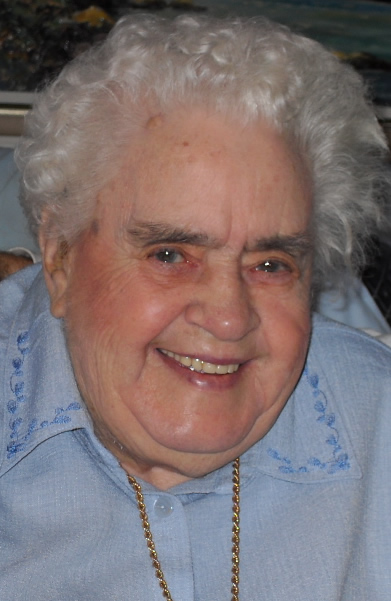 In later life, Jenny returned to professional nursing, joining the tiny class of new intake of trainees at Langfine Hospital in Kirkintilloch, graduating top of her much larger class at Stobhill later as the oldest ever to become qualified. We were suitably proud of her. Once she had qualified, she headed to Lennox Castle Hospital where she worked for 10 enjoyable years and where I had the dubious honour of working under her supervision on several night-shifts, where she was not my mum throughout the shift but a dragon of a nurse with too much of a matron about her. My pleas to have my ward allocation changed fell on deaf ears, as the Senior Nursing Officer was my mum's cousin and he just laughed.
Thirteen years ago, Jenny moved here, to St Joseph's Home run by the Little Sisters of the Poor. Our family has a long connection with the Sisters since my Aunty Jane, Soeur Marie Imelda de St Francois, entered this wonderful Order in 1940. On reflection, I need not have been worried about Jenny settling in here, as it was her married years that were the different ones for her, as she had lived in communities all her life until marrying in 1962 and this was a return to the life she knew best. Here Jenny participated fully in the life of the Home, she loved it here so much and made wonderful friends amongst residents, staff and Sisters. There was not a car, bus, van or visitor that was not looked at, interested in or investigated from her seat above the front door – it was the best and worst place in the Home for her as she was ever distracted by the comings and goings from that window and was a unique source of what was going on. Her every need was attended to here, from medical and nursing care, having her hair done (she liked to be first in the queue on a Thursday) and from getting help with difficult crossword clues, knowing as she did that I was useless at solving these. Jenny was an avid collector. Not of stamps or coins but of photographs of her with Monsignors, Bishops, Archbishops and Cardinals. She loved getting her face in a picture with them over the years. I tried to better this on one Christmas Eve in Westminster Cathedral by parking her next St John Southworth during mass. Half way through she realised there was a glass coffin next to her, so she told me she was not happy about being so close to a saint, so we had to move.
She loved to travel, whether it was to the South of France or simply to Asda across the road. Her travelling exploits in the last years had been curtailed, but she so did enjoy the holidays arranged by the Sisters here, knowing that she never had to worry about a thing, just turn up at the bus, fly and be looked after and entertained wherever she went. Jenny loved to see people enjoying themselves as much as she did.
As I look about this chapel, the value and strength of her friendship is witnessed by faces from near and far. This is a testament to your high regard and the importance that Jenny presented in all of our lives. It was the friendship and example from Jenny and Angus that meant so much to us growing up and into adult life. Jenny lived by two firm rules: "never let the sun go down on your wrath" and "the day is wasted if you have not made someone else happy". And this is how she lived her life, striving to make people happy and joyful. Jenny was a large lady: big in personality, big in heart and big in love. She loved us all.